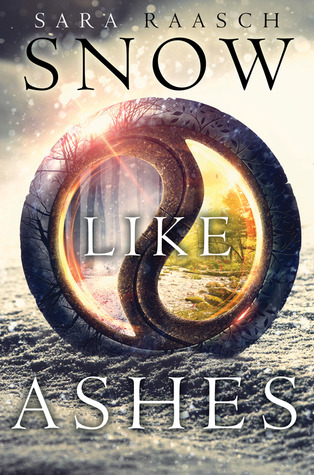 Snow Like Ashes
(Snow Like Ashes #1) by
Sara Raasch
Published:
October 14th, 2014
Add to Goodreads
Summary:
A heartbroken girl. A fierce warrior. A hero in the making.
Sixteen years ago the Kingdom of Winter was conquered and its citizens enslaved, leaving them without magic or a monarch. Now, the Winterians' only hope for freedom is the eight survivors who managed to escape, and who have been waiting for the opportunity to steal back Winter's magic and rebuild the kingdom ever since.
Orphaned as an infant during Winter's defeat, Meira has lived her whole life as a refugee, raised by the Winterians' general, Sir. Training to be a warrior—and desperately in love with her best friend, and future king, Mather — she would do anything to help her kingdom rise to power again.
So when scouts discover the location of the ancient locket that can restore Winter's magic, Meira decides to go after it herself. Finally, she's scaling towers, fighting enemy soldiers, and serving her kingdom just as she's always dreamed she would. But the mission doesn't go as planned, and Meira soon finds herself thrust into a world of evil magic and dangerous politics – and ultimately comes to realize that her destiny is not, never has been, her own.
A good old-fashioned fantasy tale with lots of heart set in a rich and unique world.
I love YA fantasy and I can't seem to get enough of it these days. With reading so much fantasy I'm sure there will come a point where the genre may become over-saturated with the same formula but for now, I'm in love with it all.
Snow like Ashes is densely packed with information which was the major complaint I saw among goodreads friends' reviews but then I beckon them, isn't all fantasy an overload of all the elements required to build this very new fantastical world? And a very fantastical world it is.
The world of Primoria is well thought out and Sara Raasch has set it up so simply yet perfectly, that you can't help but wonder to yourself; why didn't I think of this? 4 kingdoms with 4 year-round seasons and 4 more kingdoms set upon rhythms. Coupled with Raasch's tone of writing, I devoured the settings of this world.
While the world building was incredible, I'm usually not one lusting for world building to be quite honest. I devour it and appreciate it but I do not need it to be set in stone like many readers who crave details. For me, it's the characters that lead any story whether it be fantasy, dystopian or contemporary.
The last few fantasy novels I've read have been in third person narrative so it felt weird to be in Meira's head at first. Her voice was hard to get accustomed to while the information was being laid which is why it took me forever to read the first 80 pages or so.
Meira was a head strong character who wanted to find out her place in the small desolated army of Winter. She was fighting for Winter's mission with every ounce of her strength but she has no memories of the land herself. So a lot of the book was about this young girl trying to find herself and growing a connection to her supposed home. An orphan who was raised as a soldier but she craved affection -I was very much involved in her character from the beginning.
"No matter what happens, no matter who turns on me, no matter what pompous swine thinks he has power over me, I am still me. I will always be me."
She didn't let me down. She grew more vulnerable and thoughtful. She grew accepting but more brave. I absolutely loved her by the end of the book. I liked that while she was willing to be physically strong, she knew the importance of tactful thinking and being intelligent too.
Mather and Theron are the two male characters and you could argue they're both part of this love triangle but I felt like it was a very transient love triangle. I didn't mind it that much but I do agree that it was useless. I love Prince Theron but that's perhaps because he's just the all encompassion nice guy. Mather isn't my favourite but I'm intrigued about him even though at first he just seemed incredibly boring.
"They make decisions; they mold your future. The trick is to find a way to still be you through it all."
I loved the relationship between Sir William and Meira but only in the terms of the development it offered for Meira's character. He inspired Meira and made her confident but Sir William himself was kind of stoic and I thought he could have done many things differently.
The last half of the book is very much focused on the brutality of war and the harsh reality of hope. I thought it was very haunting, especially a scene in the caves of Winterian slaves.
"Someday we will be more than words in the dark."
I predicted the major plot "twist" but it didn't lessen my enjoyment of the book. I enjoyed this immensely and I can't wait for the sequel out October 2015!