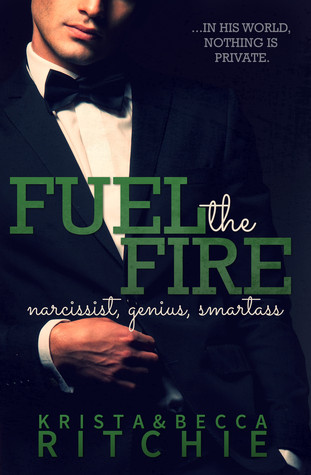 Fuel the Fire
(Calloway Sisters #4) by
Krista
and
Becca Ritchie
Published:
April 3rd, 2014
Add to Goodreads
Summary:
Protect your family. At all costs.
It'd take the impossible to hurt Connor Cobalt, even for a moment.
Protect your family. At all costs.
At twenty-six, his narcissistic tendencies have made room for the people he loves.
Protect your family. At all costs.
And he loves Rose. But when his love is threatened, when his greatest dreams with her are compromised — what is the cost then?
Protect your family. At all costs.
Love will guide his choices.
For the first time in his life.
I cried I laughed I loved every moment
Sometimes, you finish a book and it's like a part of you will never be the same again. I've been laughing, grinning and crying the entire time I was reading this so excuse the emotional tone.
I feel like I'm bordering cheesiness right now but whenever I sit down to write a review for any book from this series, I'm overcome with a loss of words as to how I'll convey how much I love these characters and these books and these authors.
First, and foremost, I have to reiterate what I've said many times and it's that Krista & Becca defy stereotypes and boundaries and simply write amazing, amazing stories. They're not writing what people expect New Adult to be. They're not writing what contemporary romance is only allowed to be. They're not showing young adults in their twenties as the tropes people see them as. Their take on society and culture and media is so fucking important. I just want everyone to be reading this series. Period.
ALSO,
mental illness, sexuality and society's expectations of
love
are explored in FTF BRILLIANTLY. Not to mention that the rest of the series has already explored slut shaming, feminism, addictions and labels.
Coming to Fuel the Fire, I am so glad Krista and Becca decided to write this conclusion to Connor & Rose's story. Fuel the Fire has a much more intense and serious tone than Kiss the Sky but it's filled with those classic Coballoway moments that make you smile so wide your mouth hurts. Krista and Becca always say that writing in Connor's perspective is a little harder for them than the rest of their characters but I refuse to believe that because he's written so so incredibly well.
Fuel the Fire
tests Connor to the limit. I'd always thought of Connor as unbreakable but the depths to his character has floored me and I'm in awe. I'll not be saying any spoilers but when character development is executed as brilliantly as it has in this series, you're going to be fooled into thinking these are real people and not fictional characters. Unfortunately though, there is no one like Connor Cobalt in our mundane world as far as I can tell, so I'll just sit here pretending the actual RCC isn't fictional.
"Connor has always had these deep blue, austere eyes that flit between serenity and hard-pressed truths."
Rose was so amazing in this. She's my queen and ruler, I love her so much. Female characters that are complex and feminist as hell are found in different shapes and forms in this series. I just love the Calloway sisters so freaking much.
"There is nowhere that says once you have a friend, boyfriend, or husband, you lose your independence."
The problems Connor and Rose face in this book are so damn big. Do they make it? Do they crumble? I won't say but all I'll say is that The Ritchie sisters wrote one hell of a book.
I can't wait till I put my Kiss the Sky copy next to my Fuel the Fire copy and just look how far we've come.