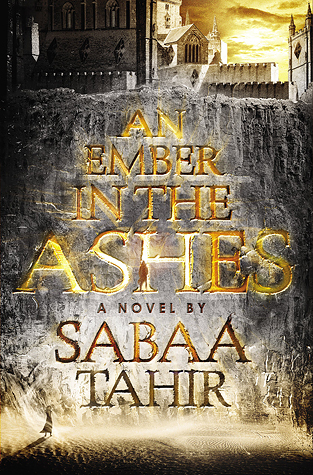 An Ember in The Ashes
by
Sabaa Tahir
Published:
April 28th, 2015
Add to Goodreads
Summary:
Laia is a slave. Elias is a soldier. Neither is free.
Under the Martial Empire, defiance is met with death. Those who do not vow their blood and bodies to the Emperor risk the execution of their loved ones and the destruction of all they hold dear. When Laia's brother is arrested for treason, Laia is forced to make a decision. In exchange for help from rebels who promise to rescue her brother, she will risk her life to spy for them from within the Empire's greatest military academy.
There, Laia meets Elias, the school's finest soldier—and secretly, its most unwilling. Elias wants only to be free of the tyranny he's being trained to enforce. He and Laia will soon realize that their destinies are intertwined—and that their choices will change the fate of the Empire itself.
A classic good vs. evil but the complexity of the characters and magic made my heart race.
An Ember in The Ashes just debut at #2 on the NYT Bestsellers List. After reading it last week and falling in love with it, I can honestly say it deserves the spot and the praise. But along with this comes the inevitable hype monster and I for one I hate it when people blame the hype monster. Not everyone is going to love every book but humans are weird in that when a mass crowd of people starts loving one thing, an equally large number start hating that thing. I like reading reviews and hearing people's thoughts but when it comes to reading a book, I want to clear my head and start reading with a blank mind.
An Ember in The Ashes was one of my most anticipated releases of this year and I'd read many of my favourite people review it praisingly. But I still didn't want to formulate an expectation bias. But even if I had, AEITA would have surpassed all my expectations.
This book made me very emotional. But before I even begin, I have to say that many people will not feel this emotional connection. Maybe people won't realize the subtle way in which Sabaa Tahir has paralleled the world of the Empire to our own. How the struggle of the Scholars is the struggle many marginalized societies across the world face today.
It's a slow and steady set up and this world that is brought to life needs an entire series to be explored. I have to say that I'll read 20 more books set in this world with these characters BUT the story as a standalone is incredible in itself. Sabaa Tahir explores and addresses everything she set out to do in this book.
An Ember in The Ashes made me feel things similarly to two of my favourite books; All the Light We Cannot See and The Winner's Crime. The former, because it's a story of war from the perspective of the soldier and the victim. The perspective from both Elias and Laia examined every issue and every perspective. The latter, because these characters are stuck within difficult choices and they don't act one-dimensionally.
My heart was racing through out the book. The story doesn't shy away from topics of abuse, torture, rape and oppression. It's compelling and honest but brutal. I know many teens fond of reading YA will devour this for the action and suspense while adults will appreciate the clever commentary and the complex characters. There were moments where I gasped out loud because Sabaa Tahir had no mercy for the torture the characters undergo.
Recently, I've realized that I'm not a fan of the dystopian genre unless it's a rare case. But to me, while AEITA is heavily marketed as a roman dystopian, I found it to be a fantasy to the core. It's a fantasy novel that weaves a fantasy tale expertly through important topics. The Scholars; a once flourishing group of people based on education and literacy. They're overthrown my the more brutish and powerful Martial Empire. But the Scholars' downfall is interesting in itself which you have to read the book to find out.
I think I've said so much but still not enough because the treasure of this story are the characters. Laia is a girl set on rescuing her brother and she is fueled by determination. What I appreciated was that she's not the "typical badass heroine". I wanna find a better word but I basically mean that she's not your Katniss Everdeen or Tris Prior who are more physically "strong". Tahir takes her time to flourish Laia's character. A girl training to be a healer doesn't just grow up to be a badass one day and I really really loved that. I could feel her fear and her hesitance. But I also felt her determination and I loved her growth as a character.
Now the moment I've been waiting for. Elias Veturius. Words are not enough to depict my love for Elias. He's courageous but he's not stupid. He's kind but his loyalty and gut feeling make him complex. His inner struggle felt so real but no broody male syndrome here thank you God! I adore him so much that this paragraph will end up being a gush fest and marriage proposal for him basically. He's as close to my heart as Kestrel Trajan from The Winner's Trilogy.
I'd like to end this review by saying that the world and the side characters, especially Helene add to the brilliance of this story. This book isn't your typical action-packed tale. Comparisons to other YA dystopians may be inevitable but Ember distinguishes itself like a flame. I think my attachment to this book stems from the heart-racing breath-holding moments it provided which made for the most wonderful of reading experiences.