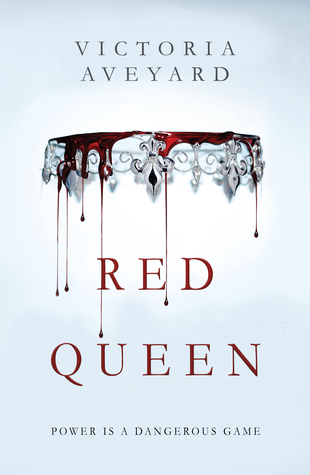 Red Queen
(Red Queen #1) by
Victoria Aveyard
Published: February 10th, 2015
Purchase: Book Depository | Amazon | B&N | Indigo
Add to Goodreads
The poverty stricken Reds are commoners, living under the rule of the Silvers, elite warriors with god-like powers.
To Mare Barrow, a 17-year-old Red girl from The Stilts, it looks like nothing will ever change.
Mare finds herself working in the Silver Palace, at the centre of those she hates the most. She quickly discovers that, despite her red blood, she possesses a deadly power of her own. One that threatens to destroy Silver control.
But power is a dangerous game. And in this world divided by blood, who will win?
Dystopian meets Fantasy but it's the usual Upper & Lower class revolution
To tell you the truth, I had to force myself to finish this book. Red Queen's marketing campaign has been beyond brilliant. From that gorgeous cover, to the immense amounts of ARCs sent out and all the other ploys, it was bound to hit the NYT Bestsellers List.
I'm still really polarized over this book. While I'm looking forward to the rest of the trilogy, I'm not that passionate about this beginning novel. I've been seeing so many people give this book 5 stars that I went back to re-read it in the hopes that I might connect with it a bit more. Even during a second look, I can honestly say that I'll stand by my 3 star rating.

Right off the bat, I can say that I didn't hate Mare but I could not connect with her or feel any sympathy for her at any point. She's very much like the rebellious impulsive trope of YA characters like Katniss or Tris. I would have appreciated a bit more sensibility from her.

Many people have mentioned how Red Queen isn't very original but that wasn't a huge problem for me. Yes, there's the typical revolution plot we've come to almost expect and the rebel movement and the main protagonist being dragged into this movement. The main character can never seem to find a middle ground between her old life and new life. I've come to expect Dystopians to be very reminiscent of one another though I do acknowledge that the resemblance to many familiar tropes was extraordinary huge here.

My biggest problem was this love triangle randomly thrown in. Cal and Maven were both very well thought out complex characters that I in fact really like as individuals. But I was baffled with their involvement in this love triangle. I was thrown off by some of the "romantic" scenes. I was completely frustrated at the supposed implications of the love triangle because to me there was barely any romantic build up for it to be such an important part of the story.

Okay, I do appreciate the plot twists thrown at us in the last 50 pages of the book because they do hint at a promising rest of the trilogy. And some side characters were a relief too. But for the most part even though the action and plot paced along at fast speed, I still felt disconnected to basically everything. Because this series is bound to be incredibly popular I feel like I'll end up reading the sequels. I really do hope they end up being more exciting and something being worth investing in.