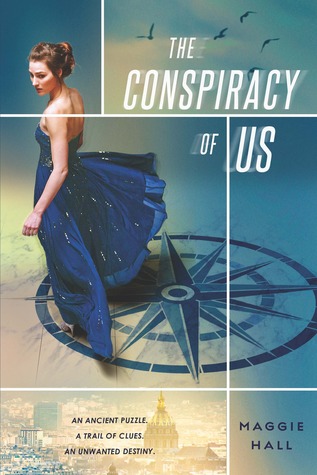 The Conspiracy of Us
(The Conspiracy of Us #1) by
Maggie Hall
Published:
January 13th, 2015
Publisher:
Putnam Juvenile
Purchase:
Book Depository
|
Amazon
|
B&N
|
Indigo
Add to Goodreads
Summary:
Avery West's newfound family can shut down Prada when they want to shop in peace, and can just as easily order a bombing when they want to start a war. Part of a powerful and dangerous secret society called the Circle, they believe Avery is the key to an ancient prophecy. Some want to use her as a pawn. Some want her dead.
To unravel the mystery putting her life in danger, Avery must follow a trail of clues from the monuments of Paris to the back alleys of Istanbul with two boys who work for the Circle—beautiful, volatile Stellan and mysterious, magnetic Jack. But as the clues expose a stunning conspiracy that might plunge the world into World War 3, she discovers that both boys are hiding secrets of their own. Now she will have to choose not only between freedom and family--but between the boy who might help her save the world, and the one she's falling in love with.
High fashion meets international levels of conspiracy meaning it's all I've ever dreamed of
When you combine high fashion, swoony boys & a jet-setting around the globe adventure, you're gonna get good things going. That's exactly what happened here. The Conspiracy of Us starts off on a high-note and maintains the pace throughout. For me, the absurdity of the situation elevated the whole experience. It was like I knew I was reading something incredibly far fetched but I lapped it up like a child eating a popsicle on a sweltering hot day.
First, I loved the settings. Maggie Hall really used Paris & Istanbul to her advantage which lent a very great tone to the vibe of the book. I mean we start off in some no name town in the states and we really leave that boredom behind. I forgot Avery was ever just a plain old high school girl because of the sheer immensity of the situations around her.
Secondly, Jack & Stellan -the two male leads, were in their right very interesting characters. They've got their own purposes and stories related to the overall plot and I appreciated that. Though, there is no love triangle in my opinion, I do favour one boy more than the other just because of the characterization and personality Hall created in his favour. Let me just say that while I think the romance was just fine for me, Maggie Hall writes those swoony scenes like no other.
My biggest concern was probably Avery, the main character. She makes some questionable decisions but by the end, I was surprised at how much I'd grown attached to her. And not to mention, she did definitely grow more mature and level headed.
The reason it's only almost a 4 star book is that there were some discrepencies involving the overall mystery. The character's and their angst almost clouded the entire plot at times which was frustrating. Still, I did enjoy it very much!
Overall opinion: The Conspiracy of Us promises to be a great trilogy set up around the globe and some very crazy conspiracy theories. I can't wait! I'd say to pick this up if you're looking for a quick, fun and engrossing read. But I do think Maggie Hall needs to go into a lot of details surrounding some of the ideas she presents. But I'm sure the sequel is going to fix all of that. Also, if you're still deciding whether or not to read it, read it for Stellan. Oh wow I love him!